Make a lasting impression.
Plan the gala event of the season that everyone will talk about.
With experience comes a refined ability to care about details. Without worrying about them.  
It was 1893 at the Palmer House, a Hilton Hotel in the Red Lacquer Room where the Greatest Banquet in American History commenced, to honor the return of General Ulysses S. Grant from his world tour.  To mark the momentous occasion, Bertha Honoré Palmer purchased French Havilland Bone China, comprised of 18-pieces per setting, for the grand event.  The illustrious Mark Twain attended the gala, and during the course of the evening he raised his stein with a toast for all to hear, leaving his mark on the history of the Palmer House.
For over 150 years, celebrated events commence at the corners of State & Monroe and continue to build upon the legacy of the longest operating hotel in North America.
Whether you're holding the gala event of the season in the Red Lacquer Room, adorned with garnet chandeliers, or an intimate gathering in a private dining room or residentially inspired suite, your event will take center stage against ornate backdrops in historic settings.
Gala events at the Palmer House, a Hilton Hotel accommodate up to 1,200 guests for dinner, dancing, and special programs.  A team of dedicated professionals will provide intuitive service and planning, chef curated menus, and creative cocktails to ensure a successful event for your organization.
The facts
9,733-square-foot Grand Ballroom, adjoining a 3,550 square foot State Ballroom, to accommodate up to 1,690 guests
16,909-square-foot Upper Exhibit Hall
78 function rooms, private dining rooms, and large conference rooms
Presentation Services can provide audio visual expertise to add to your event. Please contact Presentation Services at www.psav.com
Fastest meeting space wireless Internet in Chicago
Jingle and Mingle at Your Holiday Party
Palmer House, a Hotel Hotel is the place to see and be seen this holiday season.  Plan your holiday event now and take advantage of a special offer.
Learn more
Social Events & Catering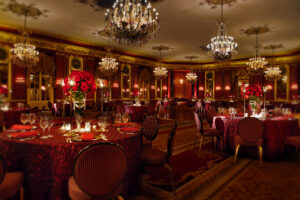 Grand events deserve Grand settings.
Meetings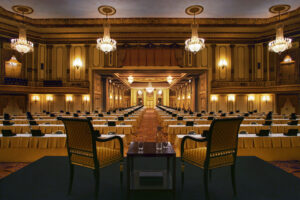 Historic settings create lasting impressions.
Weddings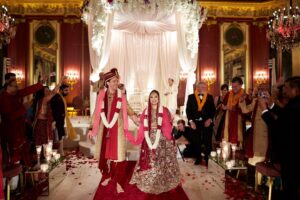 Your Story begins at the hotel built on love.

Take a Virtual Tour