Historic Hotel Package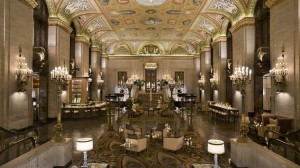 The legendary Palmer House Hilton is synonymous with the history of Chicago. On a guided tour, you will learn the role this grand hotel played in the early beginnings of this great city. Learn the tale of how the hotel was a gift from Potter Palmer to his beloved wife, Bertha.
Discover the history of the celebrated Palmer House lobby with stories of the famed murals likened to that of the Sistine Chapel and sculptures by Louis Comfort Tiffany. Find out the surprising story of some of history's greatest inventions that were first used at the Palmer House, as well a delicacy invented in the hotels kitchen during the Colombian Exposition and the World's Fair of 1893.
Conclude the tour and receive a taste of this surprising treat, as well as a memento to take home.
Our Palmer House Historical Tour Package includes:
Overnight accommodations at our hotel
The Palmer House Historical "History is Hott" Tour
A small memento to take home
The History is Hott tour lasts approximately 2.50 hours.  Tour dates vary and do not occur on a daily basis.  Tours must be scheduled in advance of reserving your accommodation to ensure availability of ballrooms that are part of the tour schedule.  Palmer House Historical Tour Packages must be booked a minimum of three days prior to arrival and are based upon availability.
TERMS AND CONDITIONS
All rates are subject to hotel availability; rate does not include taxes, gratuities, or other incidental charges; certain length of stay restrictions may apply. Early departure fee may apply. This offer may not be combined with any other discounts or offers. If you are not interested in making this reservation online, please call our Internet Customer Center at 1-800-774-1500 or click here for a complete list of Hilton Reservations Worldwide phone numbers. Please request plan code "OY". Offer Id 100029716.